Early Bird Registration
FIRST CALL ENDS ON MARCH 31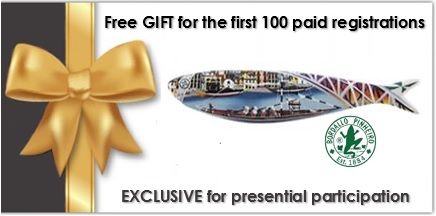 The first 100 paid registrations for presential participation at the EOQ Congress 2023 will receive a Bordallo Pinheiro piece as a gift. Raphael Bordallo Pinheiro is one of the most influential people of nineteenth century Portuguese culture, who will forever be intimately associated with caricature and artistic ceramics, showing quality and important pieces never seen before, and which, in the opinion of renowned modern artists, are the work of a genius. His remarkable work with ceramics was awarded with the gold medal in international exhibitions (Madrid, Antwerp, Paris and in St. Louis, United States).
Quality for the Future
Join us and celebrate the 2023 World Quality Day in the friendly environment of Portugal, by participating in the 64th EOQ Congress, that will take place on November 9th and 10th of 2023 in Hilton Porto Gaia hotel.
It was a long time and many thing have happened since the last EOQ Congress took place in Lisbon, back in 2019.
Now the time is coming for all the quality community to join together again, in Porto/Gaia, to celebrate quality in person (or online), learn and share how going back to quality may be the best way to face many of the challenges and risks that we are also facing.
As stated by Prof. Mohamed Zairi, whom we had the pleasure of having as our keynote speaker in 2019, in his latest book: "Quality is the answer to all our needs. It protects our life, nourishes our senses, guides our dreams and defines our purpose".
Please reserve the dates in 2023 to participate in this great event, where such topics and the role of quality in such challenging times will be discussed and shaped.
Organization
This congress is being organized by APQ – Portuguese Association for Quality.
International Organizing Committee
Torolf Paulshus
Ulf Gustavsson
Pedro Saraiva
Fernando Reis
National Organizing Committee
Pedro Saraiva
José Carlos Pereira
Paulo Sampaio
Maria José Freire
Fernando Reis
Andreia Marques
Carla Cunha
Advisory Boards
EOQ Executive Board
APQ Board
Venue
This time the EOQ Congress will take place in Porto/Gaia, the second largest city of Portugal, close to international airport, and with lots of interesting things to see and do, with many awards received, including the recent recognition as the World´s Leading City Destination of 2022. You may consider staying after the EOQ Congress for a weekend full of Porto/Gaia touristic treasures and opportunities!
---
Silver
Bronze
Supporting Partners
Supports